Tubing away your cares
Stardate 6118.63
What an awesome weekend. I was home alone all day on saturday and apart from blowing several hours trying to clean some malicious software from my computer, I had some good quiet time. Played some games, watched the Jays lose to the Yanks, played some music, and had a fire.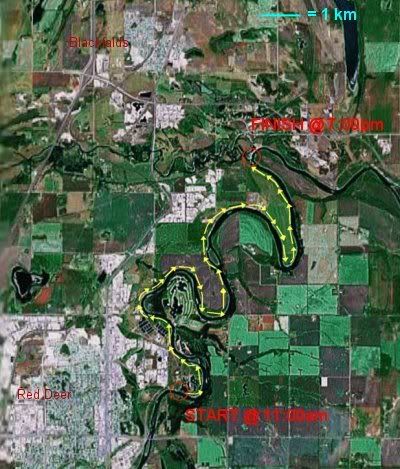 The highlight of the weekend was sunday however, when we went tubing down the Red Deer river with some friends. There were three of us, and three others, so we had about 5 various floatation devices strung together in a rag-tag chain as we set off. I think we left 3 Mile Bend in Red Deer around 11am and we finished the day at Burbank just east of Blackfalds at about 7pm. It was very relaxing, and almost surreal when you consider the normal daily grind, and events in the world... All of that was forgotten. Sadly, we ran out of beer very early on, butthen this was probably good, as a thunderstorm moved in later in the afternoon. The rain was so bad that we had to pull over to a gravel bar and shield ourselves for about 10 minutes. It was a pretty chilly few hours left before we finished the trip.
Really fun though, and the various stages of the trip were really nice. Some long smooth areas, and some fun little rapids too. We saw a lot of birds, especially hawks and pelicans. All in all, we spent over 8 hours floating along, enjoying the quiet and the sunshine (except the storm).